Technical support
UTStarcom offers its customers high touch support services that span across software, hardware and technical requirements. Our team of experienced Tier III engineers are available 24x7 through the Web and phone. Our flexible support solutions help you stay competitive in the ever-changing global communication market by offering software and hardware upgrades and repairs. You can also engage our personnel as key members of your operations team.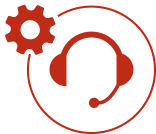 Remote Technical Services
UTStarcom maintains a technical support & maintenance model and flexible software support solutions enabled by a team of experienced Tier III engineers.
On-site Technical Services
With UTStarcom Onsite Technical Services teams, you can increase or supplement your existing technical support capabilities—quickly and cost-effectively, while staying ahead of competition.
Please contact our Technical Support team at utsupport@utstar.com