Overview
Mobile devices and cloud services have dramatically changed the way that people live, work, think and communicate. As a leading network infrastructure provider, UTStarcom takes advantages of both today's networks and our advanced software capabilities to enable customers' infrastructure to be "simple network, simple operation" to provide optimal solutions to their increasingly sophisticated needs.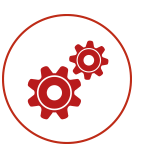 Simple Network, Simple Operation
In alignment with this philosophy, the solutions provided by
UTStarcom
are based on efficient and reliable architectures of our products that facilitate simple network planning and deployment, and enable operators to provide multiple services on a common platform. Highly flexible and scalable centralized network management is designed to improve networks manageability and simplify network operation, reducing time and efforts required for networks operation, maintenance and fault handling and minimizing service recovery time, which is critical for high-end services including enterprise and mobile backhaul. 
On top of it, our innovative
SDN solution
applied to virtualized network infrastructure further improves network efficiency and ease of operation through automated service provisioning, topology management and integration of native and 3rd party applications.
UTStarcom
SDN solution
is designed to work in multi-technology and multi-vendor network environment, covering fixed line and wireless networks, data access technologies and data centers, legacy networks and new SDN devices. The solution can be deployed on new and existing networks, including
Packet Optical Transport Networks
,
Multi-Services Access Network (MSAN)
,
wireless access networks
, etc. This approach opens plenty of new opportunities to network operators, and facilitates fast introduction of new revenue-generating services.
As a result, with
UTStarcom
solutions network operators can achieve reduced capital expenditure and operational expenses, while maintaining high level of reliability, performance and flexibility.

Mobile Backhaul
A highly efficient connection oriented packet optical network that perfectly fits the requirements for the backhaul of LTE and legacy mobile networks.

Multi-service Metro Network
Multiple fixed-line and wireless broadband access technologies aggregated via highly efficient packet optical transport.

Enterprise Solutions
Reliable solutions for the highest ARPU generating enterprise services, that require strict SLA guarantees, service continuity as well as ease of access and management.